Android 10 is coming to Versity Smartphones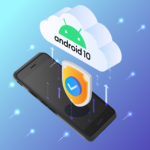 We are pleased to announce that Android 10 is now available for all Versity 95/96 customers beginning with firmware version 2.1.1. The firmware is now available for download for eligible customers with active warranties, Software Assurance, or SpectraCare coverage.
Android 10 Enterprise Features
Android 10 introduces several enhancements and improvements, including cosmetic changes such as modified notification bar icons and default text font, as well as non-visual changes including platform changes to improve battery life, increase security, and enhance privacy controls. Android 10 introduces new features and APIs for fully managed devices including manual system updates and extending QR-code and NFC provisioning to include the credentials for an EAP Wi-Fi network.
Aside from new features or enhancements, Spectralink has attempted to minimize unnecessary UI/UX changes of Spectralink-developed apps to reduce user disruption and the requirement to retrain users.
How does this affect Spectralink?
Anyone using one of our Versity smartphones will want to migrate their deployments from Android 8.1 to Android 10.
Why upgrade to Android 10?
Apart from all the features listed below, we recommend upgrading because Google continues to enhance and improve the Android operating system with each release. These include app functionality, user interface, and security enhancements. It is beneficial for Versity users to adopt the latest software to take advantage of these new capabilities.
It is recommended to upgrade to at least 2.1.1, which is on the Android 10 platform, as soon as possible, in order to continue to receive software enhancements, security patches, and bug fixes that maximize your Spectralink investment. A further thing to note is that from September 1, 2021, our manufacturer will begin shipping Versity devices with Android 10, and while customers can run mixed deployments (Android 8 and Android 10), RMAs and any new phones purchased will run on Android 10 only. There will be no further development work on Android 8.1 from Spectralink. download instructions for upgrading to Android 10 are available on the Spectralink Support website.
I have more questions.
For additional information or if you have questions about Android 10, the software upgrade process, additional Android 10 features, or other topics not addressed in this product update, please consult the Android 10 Q&A on the Spectralink Support site and if you still have questions, contact Spectralink Support for assistance.
Here is a look at some of the new Android 10 features:
EAP Wi-Fi provisioning
In Android 10, QR codes and NFC data used for device provisioning can contain EAP config and credentials—including certificates. When a person scans a QR code or taps an NFC tag, the device automatically authenticates to a local Wi-Fi network using EAP and starts the provisioning process without any additional manual input.
TLS 1.3 support
In Android 10, support has been added for TLS 1.3 and it is now the default protocol.
Network sharing via QR code
Android 10 smartphones can produce QR codes that provide network access to other smartphones. Clearly, this could be an unwanted feature in an enterprise environment. Therefore, Spectralink removed the ability to produce such a QR code while retaining the ability to join a network from code provided by the administrator.
MAC Randomization
MAC Randomization is a mechanism that uses a random MAC address when scanning networks and with each new connection. In the consumer world, it is desirable because it increases privacy since a device can no longer be tracked by seeing its MAC address during normal Wi-Fi discovery and connection. In the Enterprise world, many systems rely on having a unique MAC address per device, and MAC Randomization is not desirable. Therefore, Spectralink has disabled MAC Randomization in its Android 10 products and the phone menu to enable it. With MAC Randomization disabled, systems can rely on seeing the "real HW MAC address" when connecting to a Wi-Fi network. For added privacy, Versity 95/96 still randomizes the MAC address used to scan the network when that scan is initiated by a third-party application (those scans do not result in a connection, but simply report to the app what Wi-Fi Access Points are detected).
New Android 10 UI features
The UI for Versity 95/96 conforms with Android 10 standards including gestures, dark mode, and many other features and enhancements.
Spectralink app improvements included in 2.1.1 and later
In addition to the new Android 10 features, Spectralink has updated some applications with additional features. For example, improvements made to the Diagnostics and Logging apps make it easier for administrators to perform diagnostics tests and view logs quickly and efficiently without setting up a server, improving the troubleshooting experience. For more details and information on other Spectralink app improvements, please consult the 2.1.1 and 2.2 Versity 95/96 Series Release Notes.
Additionally, Android 10 on Versity introduces Sound Stage. Sound Stage, which can be fully or partially controlled by SAM or an EMM, enables administrators and users to control the various system and application volume levels in the form of profiles. The administrator or user can configure the app to tell the phone when a particular profile should be applied. SoundStage provides NFC options to scan and associate NFC tags to a profile. When configured, profiles can be switched by tapping the phone to something like a badge on the door of a conference room—a very handy way to switch to a silent profile when entering a meeting room, for example.
Security
The new security and privacy features in Android 10 give IT admins new tools and protections to help keep their device fleets protected against the latest threats. Including:
Updatability enhancements
Strengthening data protections
Safeguarding app installs with Google Play.
To find out more read the Android security blog
Usability enhancements
Gesture navigation. A new way to navigate around your phone with swipe or tap actions means you no longer have to use any buttons. Go backwards and forwards, pull up the home screen, and swipe up to see your open.
Contaminant detection. If moisture or debris is detected in your USB port, a notification will be sent to you and accessories will not function.
Priority notifications. With Android 10, you can organize and prioritize notifications by marking them as 'silent' or 'alerting'.
Manage notifications. It's easier to find and manage notification settings straight from the notifications panel. Just pull it down, scroll to the bottom and tap manage in the bottom-left corner.
Full details of the Android 10 enterprise features can be found here.