How UCaaS Can Transform Your Retail Operations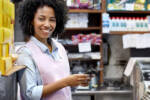 The digital transformation of retail was well underway before COVID-19 shook the world, but the pandemic put it into hyperdrive. The effect social distancing guidelines and lockdowns had on the retail industry was substantial. Many brick-and-mortar stores had to go contactless by moving their sales channels online.
As brick-and-mortar stores reopened, a noticeable shift in consumer behavior became evident. Although shoppers were shopping in stores again, a substantial amount of their buyer journey still happened online, prompting many retailers to adopt an omnichannel strategy to win sales. But facilitating an omnichannel shopping experience is complex since it requires multiple communication and collaboration platforms to interact seamlessly.
What is UCaaS?
Unified Communications as a Service, or UCaaS, is one of the best ways to manage communication and collaboration across your retail operation. Businesses across the globe are transitioning from legacy PBX phone systems to new, Internet-based Unified Communication (UC) solutions like MS Teams, RingCentral and Zoom.
UC solutions provide high-quality voice communication and include feature-rich communication offerings such as video conferencing, group conferencing and access to a wide selection of collaboration tools. In addition to connecting employees, UCaaS also simplifies the work of IT by reducing the number of connection points, infrastructure hardware and interface requirements that communications previously required.
Three ways it can help
Personalize the shopping experience
The digital transformation has made the buyer journey more complex than ever before. For example, a customer may find a product online and order it for delivery only to decide later they would rather pick it up in-store. Or they may research a product online, call to learn more, decide they want to buy over the phone and pick it up or have it delivered. If all of these options aren't available, shoppers may take their business elsewhere.
The ability to communicate via multiple platforms allows retailers to provide a flexible and personalized shopping experience across all sales channels.
Create a seamless omnichannel strategy
Retail logistics are complex. Products might be at different locations or stored in off-site warehouses. But shoppers who are looking for products online and deciding to buy in-store may be off-put by this simple fact.
The time retail associates spend looking up inventory information could be the difference between making a sale or losing business to a competitor. Cloud-based file sharing applications make it easy for retail associates to access information, manage inventory and serve customers effectively.
Reduce operating costs
Traditional phone systems can be a costly operating expense. First, equipment needs to be purchased and set up. Then, if your business grows, extensions and licenses need to be added for all of the different internal communication systems your company uses. Cloud-based applications are different because they can be accessed from any Internet-connected device and scale effectively without additional investment.
Spectralink's Versity 92 and 95 series incorporate leading wireless voice and PBX integration capabilities with Android to create the industry's best enterprise smartphones. Versity phones not only provide mobile workers with high-quality voice calling but also include video calling, scheduling and collaboration tools in addition to supporting their current Android business applications and barcode scanning needs.
Ensuring that retail associates have easy access to inventory levels and other sales channels is essential for serving customers. With Spectralink's solutions and a leading UCaaS platform, you can personalize customer engagements, increase employee productivity and reduce costs by centralizing your communication needs.